Each day a member of the group volunteered to contribute to the group journal.

Hoonah Cannery - Put In & Take Out
Sunday - August 3, 2003
The day for me started very well...found the "Hortons" in Whitehorse at . Didn't even get lost!
Met up with everyone at and it was off to Skagway sans Toru (note to self...will pronounce the poor mans name by the end of the trip if it kills me).
Saw some gorgeous scenery...his name was Luc...the mountains weren't too bad either.
Wandered around Skagway for a while waiting for our flight to Hoonah, Toru, Neil and Annes undies. All of us were very relieved when he finally arrived complete with missing guest, underwear and beer.
Saw spectacular scenery on the flight...talking about the mountains this time...the ocean was also gorgeous. From the air you could see the reefs and where the rivers poured into the sea the lines of silt made interesting patterns in the otherwise blue water.
At the airport in Hoonah we met our 2nd guide Pepi. So now the group is complete...guides Nadine and Pepi and guests Fran, Anne, Joan, Toru and myself piled into the truck and made our way to the put in where a welcoming committee of whales greeted us.
We packed, ate and after a few instructions from our guides we were off like a herd of turtles stampeding through a vat of peanut butter. Joan and Anne in one kayak, Nadine and Toru in another, me and Fran in the third and Pepi paddling solo in "Old Tippy". Pepi was kind enough to show us how to brace not just once but twice just to make sure we caught it the first time.
On a break, Nadine found some kelp that resembled a microphone and used it to interview members of the group. Unfortunately Toru declined our requests for a little Karaoke.
We made our campsite on an island with a terrific view. Soon boats were safely stowed above the tide line, tents set up, and snacks set out. Dinner followed shortly after.
Pepi just tried to kill meIll have to watch this oneI think the guides must get a little extra in the pay envelope if they off a guest (note to self...man is feeling incredibly guilty, must remember to use this to my advantage).
All in all a successful first day...I had to finish my journal entry the next morning as I lost the light. As I sit here looking across Alaskan peaks shrouded in mist I'm listening to a cacophony of soundsthe pink salmon are jumping, the gulls are fighting over a morning meal, the ravens are cawing, the porpoises are chasing a school of fish and the sound of their breathing is echoing across the water. As all this is going on a family of Merganser type birds is scooting through the water...looks like its going to be another great day!
Barb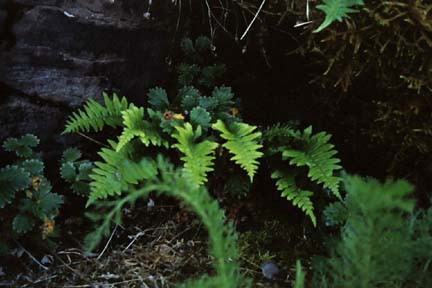 Ferns and Strawberries
Monday - August 4, 2003

I have rocks in my head. Joan was going to write today...she asked me to do it...I said OK...why...I dont know.

I am sitting now in my nice cozy new sleeping bag...in pitch dark, my headlamp on...what ever happened to the midnight sun?

Well...we had another good day...woke up this morning to a day much like what it was when we went to bed...cloudy...sun trying to break through, no wind...mild.

After a fancy breakfast of eggs benedict expertly provided by Chef Pepi...we packed up for a medium paddle, which means a bit more than yesterday...whatever that was.

We are fortunate the ocean is real calm, very nice for paddling, but no sun...it is not cold, so we dont mind the sun is not out...it will come out later.

We had the boats all packed and ready to go, so I went and parked myself in Old Red in the back waiting for a push out. But that was not to be. Anne can you come and help getting these kayaks down to the water? So, up again...help with the boats...then I go back and sit and wait for a push out. Again...Anne we are having a meeting to look at the map...so up again to see where we are going. Then a little exercise stretching session (led by Nadine).

Now we could go in the boats. Well, what is an old lady to do...I tried a few times and was booted out.

We had a lovely paddle from Hoonah Island, across to the shoreline, and then followed the shore around to Burger Point.

Pepi said to Joan and I we could go ahead to that point, only we went around the point where we stopped to take pictures of an Eagle. At the same time Nadine had flipped her lid off the candy barrel and Pepi had to go and help save the snack bars, but we had gone out of sight...so he almost flipped his lid, when he couldn't see us even though we were only around the point taking pictures. Anyway I realize we have to stay within sight. Other than a couple of seals popping up to see who was there, and a couple of porpoises, we didnt see any wildlife.

We had a lovely paddle. Joan and I saw a huge white jellyfish. Nadine and Fran saw some starfish. We decided to go directly to our campsite, have lunch and hang out.

We had good paddling weather, but rain started as we got to the campsite. We started setting up our tents...of course Joan and I had the fly on backwards...but we decided to go and eat while it rained...at least the roof was on.

The rain stopped, we fixed our tent, and then the rain came down heavy.

It was so nice to be cozy in the tent listening to the rain on the tent, and the waves hitting the beach...very soothing, and good for the soul.

Then we heard a motorboat...it stopped...but we stayed in our bags. We fell asleep...then I heard someone say cheese and crackers...OK time to eat. So I went out...the rain had stopped and yes, it was time to eat. Then we were told the guys in the boat (a good looking guy and his friend) had come in and brought beer and a big bag of fresh crabmeat and chatted...how nice...but no one thought of calling us...we sure would have liked to meet a nice looking guy who had a boat with a Jacuzzi and who also kayaked. Some friends they are.

Dinner again was expertly prepared by Chefs Pepi and Nadine. Burritos with all the trimmings, shortbread for dessert, very neatly spread out on a plate and a nice cup of port wine.

A good day on water and land and I am just awed by the mountains and the weather.

I have waited a long time to come up here and I can't believe that I am actually here, I am so in love with the Arctic and the West Coast. This is where my heart is, and my holidays will be in the north, and west. I live in Ontario, a nice place to live but I miss the mountains and the ocean.

Anne - Oakville, ON

P.S. At dinner Barbara spotted a deer and fawn along the beach. Guess we were in their path to the creek for drinking water.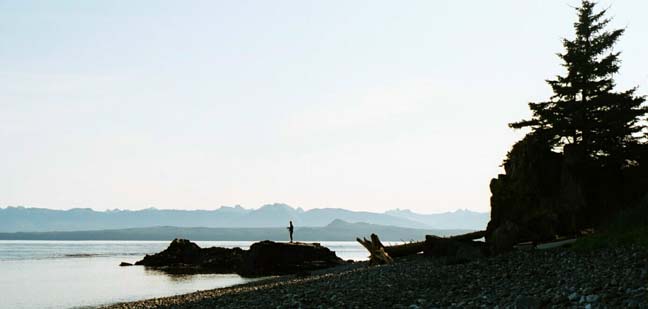 View from Port Adolfus Campsite
Tuesday - August 5, 2003
The BIG day. That was Nadine. Hurry up everybody, this is going to be a BIG day. Our next destination Port Adolphus, a long paddling day. After all the rain we awoke to the promise of sun.
Toru and Pepi had been up early and watched an Otter rolling on the beach to scratch his back.
Chef Pepi tried to ensure that we had extra power to propel us along on our long paddle. We had beans for dinner last night and more beans with our excellent breakfast burritos. Anne led us all in a series of stretching exercises. They really do help. thank you Anne.
What a glorious day, blue sky and brilliant sunshine. We stopped in the water a few times to snack on smarties and jujubes and to take a brief rest. Then powered on because it was a BIG day.
Pepi was trolling for salmon. No luck, the only thing that he caught was some seaweed...for the evening salad perhaps? The salmon were too busy leaping their silver bodies out of the air, practising to join the "Cirque du Soleil".
We pulled in to a beach to stretch our legs and a 15 minute break turned into almost an hour. We had a wonderful time exploring the tidal pools, limpets, large anemones, crabs, all kinds of sea creatures. We were reluctant to leave but it was a BIG day so we decided to skip lunch and go directly to Port Adolphus.
We were getting close. We could start to see the beautiful snow capped mountains. Anne and Joan and Nadine decided to hug the shore. Toru and Barbara, Fran and Pepi headed directly for a point. Our destination was "just around the corner".
The shore patrol met a group of kayakers on the shore so Pepi decided to go ahead and secure a site. He found a wonderful beach. On our way two sea lions came so close to us curious about who was invading their world. They really are huge. Beautiful with their sleek brown velvet fur.
We were greated at our campsite by the most spectacular show. Whales everywhere. Tails, flippers, blows, full breaches. Absolutely awesome. The thing is, it does not stop. We had the best seats in the house. The show never stopped. You could hear them late into the night blowing and calling. All this in the beautiful setting of the mountains and ocean.
After our delicious salmon dinner which was preceded by elegant snacks, Anne, Nadine, Barbara and Fran went on a walk in the forest. Tall trees covered in moss. Hundreds of prickly plants with their huge leaves. Nadine entertained herself by taking a picture of her shadow against a tree. By now the sun was starting to set. Anne, Nadine and Barbara got some beautiful shots of the sunset framed by the primeval forest.
The sunset continued to change and become more beautiful, behind layers of mountains in many shades of grey.
Just as I snuggled down into my sleeping bag Pepi came along and said that there was another spectacular sight to see. The northern lights! We watched them dance across the sky as the whales continued in the bay.
This really was a BIG day. Actually it was a PERFECT day.
As I sailed up and down the Alaska coast this year on the ship I worked on, I would look at the beaches and think wouldn't it be the best thing to camp on them and enjoy this incredible beauty...and here I am.
If this is the only so called "good day" of the trip it is more than enough.
One's spirit is nourished and any stresses or life problems are instantly put in perspective. Our creator made a wondrous world and we are thankful.
Frances - Cherry Hill, NS
Wednesday - August 6, 2003

Yesterday was a BIG DAY particularly for me kayaking with Anne, at least 6 inches on the map? I think we did 12 inches because Anne wanted to explore every inlet. To think that only a month ago my life consisted of Doctor's visits to make sure my lung cancer hadn't spread to my right lung as well as physiotherapy four times a week for whiplash.

I awoke to quiet sounds from the kitchen and the whales cavorting meters from my tent. The sea lion had apparently come to investigate these tall strangers walking his beach.

The sky was pure blue and the sun was peeking through the branches of the trees on the cliffs above us. This was the day to relax, enjoy, and "do our own thing". Pepi and Toru had already elected to go fishing. The women had other "secret" plans. Just having a coffee and watching the whale show made my day. However, pancakes with various condiments, sausages and a dab of Nadine's whipped cream made the morning.

After dishes and other more personal chores, the fellas set off to catch supper and the girls with Nadine as the creator, decided to try her process of rejuvenation (female) with our help.

Anne volunteered to experience the process. She volunteers for everything, hoping to make her dreams come true. The first step was to gather perennial kelp, sea lettuce and rock weed. The next step was for Anne to strip. Next she lay on the sun warmed rocks. Then Nadine and Fran began the process of wrapping her complete body in the perennial kelp. The kelp fronds were successful as a natural pillow. The sea lettuce was then applied carefully to cover the face, especially the mouth. The fronds next covered her head. Lastly two cucumber slices brought new vision to the eyes.

Barb was the camera person filming every move. Joan from the CBC followed the whole sequence first interviewing Nadine on the process she invented, next Anne and what she hoped from the results and Barb getting everything on tape.

Pepi and Toru were asked for their comments and when they saw Anne in her kelp wrap, were speechless. Finally Anne was unwrapped. She looked 20 years younger and was very excited. We all felt the whole process was a complete success and should be offered by Nahanni Adventures on a regular basis. Of course Nadine will be receiving a huge raise and own the rights to the recipe. Anne has agreed to keep being the "dummy" oops I mean the demonstratee in exchange for free Nahanni trips. Sounds like serious negotiations coming up Neil.

We lounged around before lunch looking up some of the sea creatures that interested us.

Pepi and Toru caught two salmon for supper; therefore we again feasted on fresh salmon sandwiches and other goodies.

Then it was off to kayak with the whales. The wind had come up and the tide was coming in so there were tricky currents. We saw the whales who put on show after show as we followed them near the campsite. The whales then retraced their path showing off for the Dutch cruise ship going by. Then they seemed to have gone under for awhile. Pepi said, "Thats about it for now," and we started heading back to camp. Anne and I landed first expecting the others to follow. However, after waiting for a few minutes we noticed the others taking after the whales who had surfaced with Pepi in hot pursuit.

Anne and I had been in Big Red trying to control it and take pictures. The wind and waves had other plans. Anne climbed our little rock mountain and suddenly the whales were right in front of her showing off. We both got some great pictures.

Anne didn't want to go back on the water so we just watched the others paddle following the whales. Fran said the whales were performing sexual acts they were cavorting so much. Anne and I would not have understood what was happening. Finally the gang came in and Anne got her chance to try Judy's kayak. Up and down she paddled under Nadine and Barbs watchful eyes. Through the bearded seals and whales Anne paddled on. Finally she came in and we ate.

What I didn't know was that Toru had overtaken the kitchen and he and Pepi were seriously discussing how to make sushi. They had salmon roe and salmon belly, thin carrot and celery sticks and artichoke to name a few ingredients. We watched as Pepi performed the art of rolling the mats with the ingredients inside. It is a very delicate operation.

However, when Pepi was finished, he sliced and set them on a plate avec decoration, we just had to take a picture for Neil's next symposium. We feel this will help to capture the Japanese market. As twilight set in, Nadine began the process of making, rolling and slicing the sushi. It was gobbled up as quickly as it was made. Im not a real sushi fan having been raised on meat and potatoes. It was dark by the time we ate our fresh, fried salmon and vegetable stir fry, which made it taste even better being very tired. I said goodnight and went to my tent. Anne soon followed with my mug full of Pepis nightcap Irish Mist in hot water. Since I don't drink much Anne was counting on at least half of mine, however, down the hatch it went to Annes consternation. Boy did I sleep well.

It had been a BIG DAY!

Joan, Sault Ste Marie ON
Thursday - August 7, 2003

I got up early this AM. Nature called. It was a beautiful morning, clear and bright. It was too early to stay up so I crawled right back into my nice, new cozy sleeping bag and slept some more.

A bit later Nadine called and offered us coffee which Joan accepted. I was half up so went and got my own...but now...oh boy...are we fogged in. The dew was heavy on the tents, everything was wet. This morning was pretty cold...Joan wore her nice warm down jacket purchased at a great saving at her favorite store Value Village. Barbara was all wrapped up in her sleeping bag...and Fran was standing shivering in the cold. She should have stayed in her sleeping bag...I was pretty comfortable double layered. After a breakfast of granola, yogurt and a big fruit salad we were pretty well nourished.

We had an easy lazy morning...the sun came out...the fog dissipated and now it was quite nice.

Pepi suggested to just hang loose, pack our own gear up and we would have lunch at campsite, and leave right after.

We enjoyed the big rock where the sun kept us warm and dried some of our wet clothes.

Some people were busier than others, but we enjoyed a leisurely morning, watching more whale activity. Staying there two nights has been just beautiful...the whales have really performed for us all day yesterday and again today.

This is everything I had hoped for...I have never seen or heard whales live before and this trip has really given me everything. I can't get over the size of these big animals and how neatly they leap out of the water. I really hope we dont pollute our waters and environment so much that all this wildlife will be destroyed.

Lunch was wraps, we filled with salmon or ham and trimmings and then it was time to depart Point Adolphus where we had two days of pure ecstasy, enjoying the show of whales.

We were now heading back home sadly to say. Again we changed seats, today Joan went in Big Red with Nadine and I felt very privileged to be in Judys single.

The water was quite calm when we went out and we had a tail wind and the current with us which made the paddling so much easier.

We are now camped at Eagle Point after about 10km of paddling. We are on the rocky beach. Pepi promised us the high tide will not reach our tent...I hope he's right...I am not fond of water beds. Tonight we had our first wash in several days. Pepi and Nadine heated some water and we could go to a secluded spot and really wash both the possibles and the impossibles. It felt good to wash off some of that saltwater. I was beginning to feel like a salted pretzel.

At dinner we had seafood pasta, stir fried veggies and Waldorf salad. Now it was time for some fishing. Toru and Pepi went out in the double but came back empty. While they were out we did "women stuff" and waited for them to return, so we could have dessert and that was really yummy. Graham cracker crust filled with fruit and whipped cream...very good...like we wanted more....but there was no more. But a real good dinner and dessert provided by Nadine and Chef Pepi.

While they were fishing...Joan decided to take a hike God only knows where and why...but a while later she came back...didnt you hear me calling? No we didnt...she had fallen and hurt her shoulder and was in terrible pain...we got her undressed and into bed, fed her Tylenol (hopefully it will knock her out so I can get a good nights sleep). She had her dessert served and we are now in bed listening to the water getting closer to our tent by the minute.

Joan is reading, seems to be OK...I think she did this so she could paddle with Pepi tomorrow. I am now turning off my headlamp to go to sleep...to the tune of waves at my doorstep and the satisfaction of another beautiful day behind us.

Anne Oakville, ON
Friday August 8, 2003

(Barb) Up early again this morning...the sun was beating down on the tent by .

Nadine's special hash browns for breakfast along with bacon, sausage, pancakes and left over ambrosia salad with some blue berry pie filling thrown in for good measure. I think Im going to explode! God the food is good!

Took our time packing up and Pepi and Toru went fishing while the rest of us kicked back on the beach. Nadine kept trying to get us to eat but we had all had so much breakfast that none of us could get down another bite.

(Nadine) Everyone was lying (or just generally reclining) in the sun and enjoying the heat. After all, it's the first campsite in awhile that weve enjoyed this much sun first thing in the morning. It seems like a lifetime since we were huddling under the tarp in the rain at Flynn Cove (which is just around the corner from where we are now).

I was hoping to see another eagle today, we are at Eagle Point...and I did. But that was later in the day. This morning, I climbed around on the rocks on the point. The rocks are almost like stairs in places and you can see layer upon layer in the rocks themselves. I think Anne was a little nervous about how I was climbing on the rocks yet, at the same time, she asked me to pose on a very precarious perch so she could take a picture.

(Barb) Either Pepi and Nadine are confident in my paddling abilities or they have joined forces to try and do me in. Im paddling Old Tippy. The boat is great...lively and incredibly responsive. Had a great day on the water...Joan got her wish and was in Pepis boat...riding like a queen in the bow. Anne and Toru partnered up and Nadine & Fran. I saw an otter and a porpoise today...a couple of bald eagles rounded out the wildlife viewing.

Must say that paddling solo has been another trip highlight...wasn't even something I'd considered at the outset of this trip.

(Nadine) I paddled with Fran today. She said her shoulder was bothering her a bit but she paddled through it anyways. Tough gal! Eventually we decided to stay at Hoonah Island. After that decision was made, Fran turned into a paddling machine. You couldnt stop her. We made it to shore in record time.

(Barb) Hauled the boats up and set up camp...the last camp for this trip. Man the time has flown! Dinner was fresh fish courtesy of Toru and Pepi...cod and flounder caught earlier in the day. Nadine and Anne worked on the best coleslaw Ive tasted (almost as good as grandma used to make). After supper Toru and Pepi went out again to try and catch a few fish for breakfast the next morning but had no luck. They did see some porpoises and harbour seals...the evening was glorious and the sunset the best so far on this trip.

For myself Im savouring this final evening in the outdoors...our tent is on the point...my feet facing the sunset...my head facing sunrise. The ocean breeze flowing through the tent...listening to the lapping of the tide and the occasional fish jump. The moon is almost full and is reflecting the sunset...moon glow glistens off the water. It's been and amazing experience shared with some wonderful people.

Barb

Nadine
Although the Group Journal stopped on Friday we had two more days together. Here are some "Reader's Digest" excerpts from my own journal for the last couple of days.
Saturday August 9, 2003

We took our time packing up today. Fran and I had a prime piece of real estate as our last tent site. I watched the sun rise through the tents open door. I'd made myself a promise at the beginning of the trip that I would finish my book before arriving back in civilization so decided to do so.

Toru had first chance at Old Tippy today but unfortunately the cockpit was too cramped for him so I got to solo again today. The wind had picked up by the time we launched but the sun was out and so was the wildlife making it a great paddling day. I've always been one to prefer a breeze especially on hot days so I have no complaints.

Arrived back at Hoonah in the afternoon unloaded the kayaks, had a quite lunch on the beach then piled into the truck and headed to Icy Straits Lodge. While they were sorting out our rooms I wandered outside and struck up a great conversation with a gentleman by the name of Raino (spelling?). Met another local, George, in the reception area...reminds me how much I miss the friendliness and hospitality of the north. Made it to the room about 45min later...had a shower and, without a word of a lie, my salt saturated quick dry pants stood up on their own when I took them off!

We had dinner in the Lodge dining room, some liquid bread(AKA beer), and us "younger folk" irritated the "older folk" by firing up the juke box. Yes, my middle name IS trouble. Walked around town afterwards to settle supper...explored the docks, admired the town totem pole and just chatted in general. Nice easy end to the day!
Sunday August 10, 2003

I warned Pepi and Nadine at the beginning of the trip that traveling with me is always "an adventure" ...I leave my watch at home on trips and I've been known to "get lost". Well...this trip was no different.

We started the day with a leisurely breakfast at Mary's. Anne and Joan did the coffee and toast thing for breakfast but the rest of us availed ourselves of Mary's hospitality and generous portions!

After, we split up, agreeing to meet back at the Lodge around so we could make our flight back to Skagway. Went into a little shop called Colette's Cupboard and met Raino's wife...chatted a little and then ran into Raino, daughter Cheyenne and brother Vernon who were getting ready to go shrimping.

Ended up down on the docks for a few pictures and once again started chatting...Raino, Vernon and Cheyenne gave us the tour of their fishing boat, the harbour and bay. They set out both crab and shrimp pots...told us about the native graveyard on the island across the way and discussed the theft of a number of totems, many of them quite old, from the island. These guys are a wealth of information...learned a lot about their town, traditional hunt camps etc. In fact, the place where Pepi and Fran stopped for water after leaving Point Adolfus has one of those camps located just upstream. Well...at Raino, Barb and Nadine were racing up the docks just in time to flag down "Search Party Pepi". In the immortal words of Brittany Spears "OOOPS I did it again". But I wouldn't have missed the time I spent on that boat for anything...had a great time!

Oh well, the airport is less than a five minute drive and we did make the flight on time.

Back to Skagway...had a coffee and it was back to Whitehorse. My flight leaves tomorrow morning...so I walked downtown...had supper...hit a couple of shops for souvenirs then off to bed.